Arduino
Details

Category: ARDUINO
Hits: 2284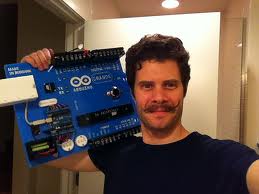 Semasa aplikasi arduino ditambahbaik sehingga versi 1.0, aku masih lagi guna versi 0.23. Ini kerana terdapat isu di mana versi 1.0 mempunyai masalah pada beberapa library. Library ini perlu ditulis semula supaya dapat digunakan. Ini melambatkan kerja aku. Maka, aku tangguhkan dahulu.
Sehinggalah aku terpaksa bertukar ke versi baru kerana didapati versi lama mempunyai masalah slow respond semasa digunakan. Terpaksalah salin semua library dari versi lama 0.23 ke versi 1.0.1 (terkini). Tetapi library asas yang telah ada di versi baru tidak disalin bersama.
Details

Category: ARDUINO
Hits: 2172
I like to make a revision on Temperature and Humidity Monitor. After a few test, I found few flaw in the article.
First of all, the diagram. For the SD reader part, I not connect any connection to the second GND pin. Whenever, you try to power up to Arduino and monitor the output in serial terminal, arduino can not detect any SD card.
So, the correct connection is to connect all GND pins to GND.
Secondly, the output in CSV file. There is no separation between temperature and humidity reading. So, below is the correct one. I put comma between them.
I got a new project to monitor temperature and humidity 24/7. So, I set logging delay to 5 minutes, where 5 * 60 * 1000 = 300000. (1sec = 1000). At this part, i put the delay value straight to the function delay() and not the integer variable as before.
Details

Category: ARDUINO
Hits: 5598
After I plan to have a new project with Arduino, I need to know how to build a circuit that can read voltage or what we can call it voltage reader using Arduino.
I found this site and have tried it. But, it seems like the program has a lot of error. I tried it with 1.5V AA battery and it gave me 350V??!!!
Details

Category: ARDUINO
Hits: 5821
I have designed and wrote a program to monitor temperature and humidity 2 months ago. It took me another a month to publish it. Why? Because I can not find any suitable circuit sketch for Arduino. And lazy. Hehhe.
So, what I can give to the other people about my latest project is only in short description. Any problem/questions, just ask me in comment down below using Facebook.
Objective: Build a system using Arduino to monitor temperature and humidity and save it in memory card.
Details

Category: ARDUINO
Hits: 2839
After having difficulty to remap the MUT coding from ECU of my car, I have to put a site this project temporarily. I still waiting a good time for me to get USB to serial adapter that compatible with Win 7. Mine is not compatible at all. I do not want to invest unused/incompatible device because I have short of money. Furthermore, most of my salary has to go to my son's education fund. I am not complaint about it but I really frustrated having an item I bought is not help my hobby at all.