Arduino
Details

Category: ARDUINO
Hits: 2363
Dengan menggunakan Arduino + Ultrasonic module, mungkin kita boleh buat radar. Tetapi bagaimana untuk membuat 360 darjah pusingan?
Details

Category: ARDUINO
Hits: 9933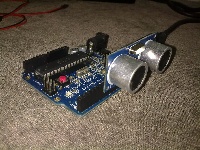 Few months back, in my mind, I needed to build up a cat/dog repellent based on Arduino circuit. But, at the same time, I needed a sensor to detect an object exists in front of the device. I bought an ultrasonic sensor suitable for arduino. There are two kind of ultrasonic sensor with different circuit pin. 3 pins or 4 pins. I got HC-SR04 which is having 4 pins, Vcc, Trig, Echo and GND.
And the most important thing was, I needed to learn how to write a program for the sensor. To learn how to write a testing program I found this site, http://www.arduino.cc/cgi-bin/yabb2/YaBB.pl?num=1272177425
Details

Category: ARDUINO
Hits: 2872
Bagi sesiapa yang ada melihat video "My first Arduino Programming" dan ingin mengetahui lebih lanjut, sila masuk ke laman GarageBox.org setiap minggu. Aku akan cuba melaporkan segala aktiviti yang aku buat terhadap Arduino ini setiap minggu jika tiada aral melintang.
Details

Category: ARDUINO
Hits: 2227
Sebelum ini, saya ada menunjukan eksperimen pertama saya membuat LED berkelip menggunakan Arduino.
Details

Category: ARDUINO
Hits: 1772
Sebenarnya, aku terima Arduino board ini dua minggu lepas. Terlalu sibuk dengan kerja dan peribadi, aku rela meninggalkan obsesi terhadap Arduino bagi mengelak aku ini mementingkan diri. Baru malam ini, langkah kedua mempelajari program sendiri Arduino ini.