Last month, I got a call from Element 14 and asked me to register my company with them to get the best price for my next order. How can I register my company as I am not own one? hehehe. They thought I have a company because I ordered 4 units of Raspberry Pi in 3 months.
Actually, I bought them for my friends and myself. I sold 1 unit to a college girl I newly met. She planned to built a karaoke set using computer with Windows. But, I encouraged her to use Raspberry Pi just because of it size, reliability and glamour.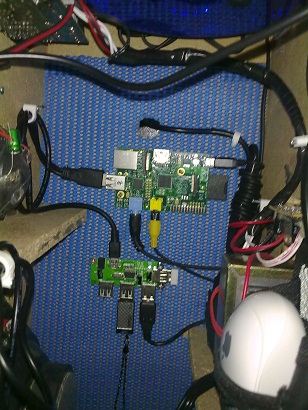 Inside Karaoke set.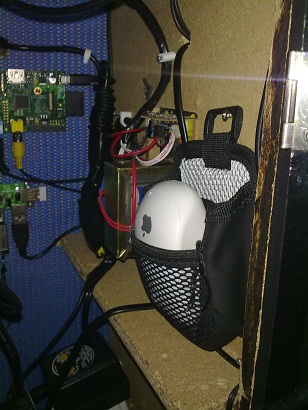 Inside Karaoke set, she put beg for the mouse and I smell perfume. heheheh, she put perfume to make the box smells good. Perempuan la kata kan. :)
Yes! Glamour! In the small town Segamat, Southern Malaysia, there is a college named Kolej Yayasan Pelajaran Johor. Like other small operated college, they do not have a group of people who looking forward and explore new thing for the benefit of their student. Whatever they only know the establish technology in the world, like Intel, Microsoft, C++ etc and not Linux, Unix, PHP, Perl etc.
Even though I was a little bit skeptical, how a girl wants to build something with technology she not familiar with, she still managed to do it. She knows how to plan the project, ask people (including me) to buy some part and know to get help from her friends to make it work and look very neat. The important thing is she knows what to ask because she totally did not know what are Linux and Raspberry Pi before this. She learned a lot of things from this project. Also, got a good respond from lecturer and friends.
The Raspberry Pi Karaoke set is using Raspbmc (http://www.raspbmc.com/) for it OS and player. She uses amplifier set and modified the internal part to place Raspberry Pi board, USB hub, few power extension plugs, USB flash drive, flexible keyboard and a mouse.
Today, she will present the project to her lecturer. Please pray for her and wish she gets a full mark for this project. I hope this is not only beneficial to her but also to her college for looking forward for a new technology and being creative.